Chart Industries
This employer has taken extra steps to respond to reviews and provide job seekers with accurate company information, photos, and reviews. Interested for your company?
Learn More
.
www.chartindustries.com
Chart Industries – Why Work For Us?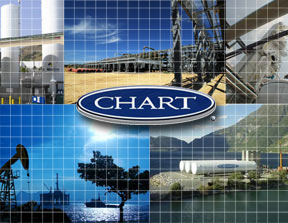 Chart Industries, Inc. is a leading global manufacturer of standard and custom engineered products and systems for a wide variety of cryogenic and heat transfer applications. Our equipment is used throughout the liquid gas supply chain in the production, storage and end use of natural gas and industrial gases. We supply three markets: energy, industrial gas and BioMedical.
We have an established sales and customer support presence across the globe. With more than 2 million square feet of low-cost manufacturing operations in the United States, Central Europe and China, we have substantial operational flexibility. We are the No. 1 or No. 2 supplier in all of our primary markets and typically one of only two or three suppliers able to provide many of the products we make.
We sell to more than 2,000 customers worldwide. Our engineering, technical and marketing employees actively assist our customers in specifying their needs and determining appropriate products. Many of these companies have been purchasing our products for more than 20 years.
Our operations are organized into three operating groups: Energy & Chemicals, Distribution & Storage, and BioMedical. While each segment manufactures different equipment and systems for distinct end users, they share a know-how and expertise in heat transfer and low-temperature storage.
Global Presence
With manufacturing operations in the United States, Central Europe and China, we have substantial operational flexibility and are well positioned to meet our customers' global needs.
Our mission is to leverage our scale, scope and expertise to deliver high-quality, reliable, environmentally friendly products and services at lower cost.
At Chart, our employees are our most valuable resource – our success depends on it. It is our goal to provide each employee with a challenging and rewarding experience that allows personal and professional growth.
To support your personal and professional growth Chart offers online learning programs, challenging assignments, and the ability to grow within the company.
We offer an excellent compensation and benefits program including:
Incentive bonus
Medical
Dental
Vision
401 (k)
Tuition reimbursement
Vacation
And much more!
Chart Industries Reviews
Chart Industries
26
---
Samuel F. Thomas
14 Ratings
Chart Industries Interviews
Application Details

I applied through college or university. The process took a week – interviewed at Chart Industries in June 2014.

Interview Details

Applied on campus recruiting website and got a call from the HR a week later. Fixed an appointment to meet next day with the department head for an interview. The result was out on the following week.

Interview Questions

No difficult or unexpected questions were asked. The job description matched my profile, so I was asking few doubts about the department and the process involved.   Answer Question

Negotiation Details

Go ahead and clear all your doubts during the chance you get.

Chart Industries

2014-07-21 09:52 PDT
Chart Industries Awards and Accolades
Let us know if we're missing any workplace or industry recognition – Add an award
Website
www.chartindustries.com
Headquarters
Cleveland, OH
Type
Company - Public (GTLS)
Industry Manufacturing
Revenue
£500 million to £1 billion (GBP) per year
You may never use the products we make, but everyone uses the products we make possible.

Our focus is cryogenics. Chart is a recognized global brand for the design and manufacture of highly engineered cryogenic equipment used from the beginning to the end in the liquid gas supply chain.

Our products are critical components in the separation of oxygen, nitrogen and noble... More
Mission: Innovation – We are passionate about what we do and dedicated to continuous, innovative development.

Experience – Customers rely on our knowledge because we are... More
Work at Chart Industries? Share Your Experiences