Headquarters
Lake Oswego, OR
Size 5000+ Employees
Industry Real Estate
---
The simplest definition of Holiday Retirement is that we're a robust family of more than 300 senior living communities that provides seniors a safe, carefree, all-inclusive independent retirement lifestyle. But really, we're so much more than that. As a pioneer, and the nation's leading provider of Independent Retirement Living, our residents know that they're experiencing a... More
Mission: We are in the business of providing security, comfort and value to seniors seeking an independent and fulfilling lifestyle. We provide The Holiday Touch.
Loading...
Holiday Retirement – Why Work For Us?
About Us

 | 

Career Paths

 | 

Locations

 | 

Our History

 | 

Community Giving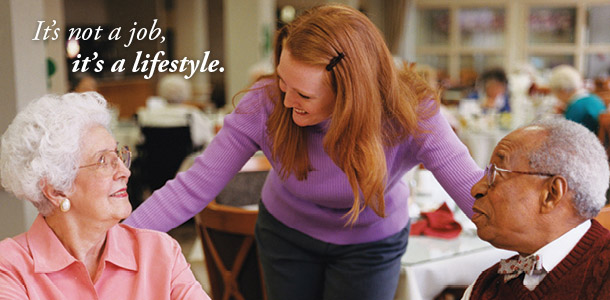 ​​A pioneer then, a leader now​​
When we founded Holiday Retirement in 1971, we set out to create an independent retirement lifestyle unlike anything seniors had ever experienced before -- cheerful communities filled with friendly neighbors and staff who feel more like family, live-in managers dedicated to the safety and satisfaction of each resident, innovative activities, programs and travel opportunities for fun and personal growth, and all the chores and daily details of life taken care of. When people talk about life at Holiday, they can't help but smile and burst with memorable experiences. And that's because of something we call the Holiday Touch.
The Holiday Touch is all about going above and beyond to make every day special for our residents. Today, we invite you to become part of the Holiday family and experience the Holiday Touch for yourself. Discover a satisfying career working for a company that truly treasures seniors -- where everything you do, in whatever capacity, is contributing to their happiness and wellbeing. Join a team that strives to create a welcoming atmosphere in which residents know they're right where they belong. In the process, we're confident you'll find the place where you belong, too.
This is the employer's chance to tell you why you should work for them. The information provided is from their perspective.
Working at Holiday Retirement
Posted by employees
Employees are "Dissatisfied"
412

ratings
22% of the CEO   121 ratings
Kai Hsiao
President & CEO
  Current C0-Manager in San Francisco, CA (US)
Pros: First and foremost the residents make it all worth the commitment it takes for this job. The pay is very reasonable especially if your bonuses are great. The perks are great. On-site Managers only pay for their cell phone if they live on-site… – Full Review
Accepted Offer – Interviewed in Fresno, CA (US) – Reviewed 3 weeks ago
Interview Details I applied on-line. You will then get a call. If you are a candidate the company will call you right away. If you don't get a call you may want to reapply in a month. You have 2 phone interviews then you will get a call from a Regional for a 1on1. If the Regional thinks you are a fit she will have… – Full Interview
Interview Question:
You will be asked if you can work with your partner?. It takes a while to get on board but you will get a job. There is a high turn over and they are always in need of managers. The central… – View Answer
Holiday Retirement Awards and Accolades
Best Senior Communities
,
Best Senior Living Awards
,
2013
Worked for Holiday Retirement? Contribute to the Community!