Size 5000+ Employees
Industry Business Services
Revenue £500 million to £1 billion (GBP) per year
---
Southern Wine & Spirits is a family owned sales and distribution organization with a renowned history of consistently delivering impeccable service through our 14,000 employees, covering 35 states. We offer an array of careers focused on delivering a captivating and rewarding experience. We challenge our colleagues every step of the way and provide them with tools to grow, succeed and accomplish their personal and professional goals. Together, we can deliver the highest quality service to each of our customers and put you on the career path you've been looking for.
Southern Wine & Spirits – Why Work For Us?
About Us

 | 

Working At Southern Wine & Spirits

 | 

Corporate Social Responsibility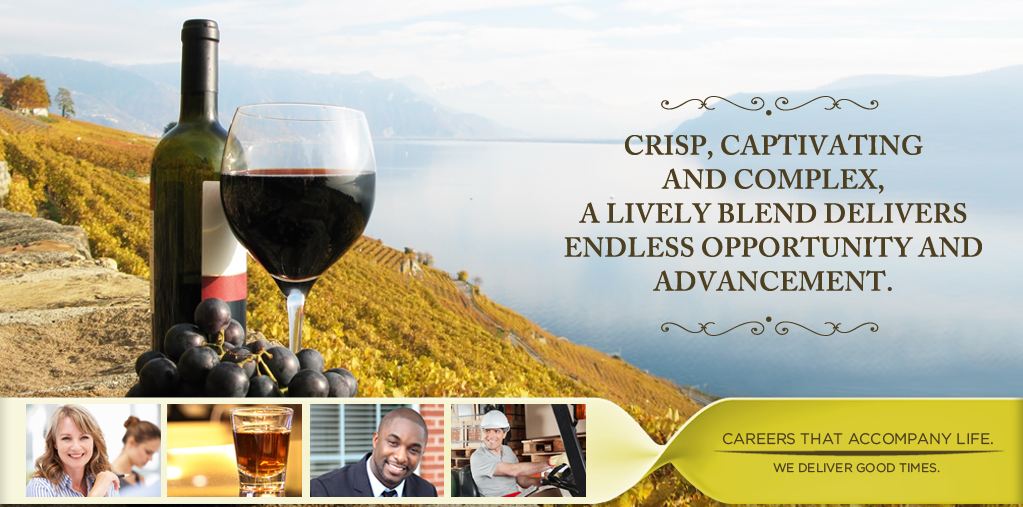 ​​Our Corporate Vision
To be the leading distributor of beverage alcohol— creating superior value for all tiers of the industry.
Our Mission
Providing superior business solutions that drive growth and value for customers and suppliers alike through our national scale, state-level share, local market intelligence and brand-building expertise.
Our Beliefs and Values
Our people are our most fundamental resource. Diversity in thoughts and actions are welcome. Individual differences are respected. We recognize that employee contributions through teamwork and empowerment are critical to the success of the Company. Our goal is to provide a positive environment for our employees that encourages creativity, recognizes innovation and rewards results.
Quality
Superior quality and continuous improvement in all aspects of our business results from a dedication to employee development; this, with a commitment towards ever increasing customer satisfaction.
Customers
By being customer focused, it provides us the understanding and the ability to address the needs and expectations of each; thus, enabling us to provide unsurpassed value in both product and services offered. Professional relationships cooperation and building long term relationships is the common goal in our successful relationships with our suppliers and customers alike. By conducting business in a manner beneficial for everyone, with highly trained and specialized resources, we are able to deliver superior value added services.
Integrity and Social Responsibility
Our Company accepts responsibility for maintaining the highest standards of integrity, ethics, and support for all our employees, customers, environment, and all the communities in which we live and serve.
This is the employer's chance to tell you why you should work for them. The information provided is from their perspective.
Working at Southern Wine & Spirits
Posted by employees
Employees say it's "OK"
129

ratings
61% of the CEO   65 ratings
Harvey R. Chaplin
Chairman and CEO
  Current Sales Manager in Miami, FL (US)
Pros: New leadership style has improved route to market and overall employee morale. No longer the "good old boys" club – Full Review
Southern Wine & Spirits Awards and Accolades
America's Largest Private Companies
,
Forbes
,
2009
America's Largest Private Companies
,
Forbes
,
2008
Worked for Southern Wine & Spirits? Contribute to the Community!